Hmm. I just noticed that the topic for Illustration Friday this week is "clutter". And here I thought the topic was "FLUTTER". Being a bird person, and all. Well, there is at least one flutter in this cartoon.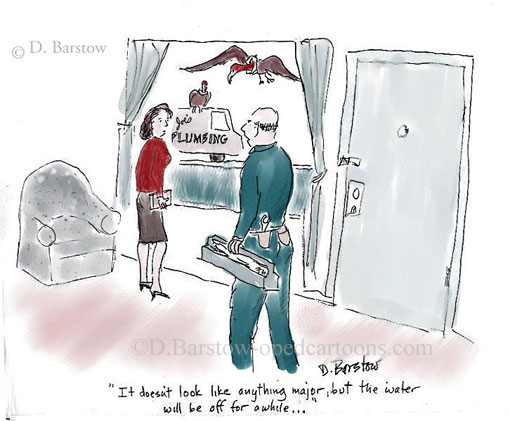 California Condors are big out here, of course, but these could be vultures anywhere. (Is the cartoon clear? That they're waiting for her to die of thirst, as if she was in the desert?) Here I go again, morbidity, the smell of death in the air (and I HOPE it's not that plumber), vultures hanging around.
But don't you hate it, really, when the plumber turns off the water, and you know he's doing it longer than he has to, just because he can? Control, people, control.
The drawing.
Hmm, I experimented with a limited palette for this. I picked a dark green, with the opposite of blood red, because I read that with opposite colors, one is warm and one is cool – and of course included black & white, my usual guys. Well, it's limited all right. Maybe the paints in paint programs like Painter don't mix colors very well… But who cares, it's Friday, right?
And you know what? Maybe "clutter" was a little too close to home, speaking personally, of course.
*Well, it was Friday when I finished it, but I couldn't link it to Illustration Friday because they are on European time, or something. Sigh. So no one will see this.
Well, I love you, you red-headed vultures, you.