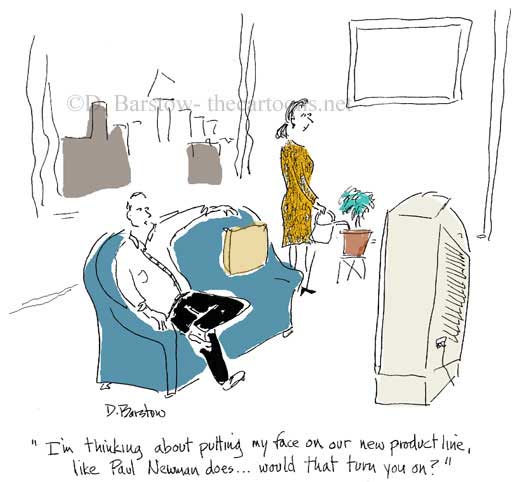 "I'm thinking about putting my face on our new product line, like Paul Newman does…would that turn you on?" ?D.Barstow 2009
I heart Paul Newman! Not so much for his movies, although he was great – but for entering my own life by doing movies on location, where I found him in person.
I was dating the special effects guy on one film, and I remember he had to build a special sweat hut so Paul could sweat off all the beer he drank each day and still look trim for the film. (What, no Paul Newman beer? I think I saw a beer in his hand every time I saw him.) Another time, I was with some friends who went to a car race in Pennsylvania, and there he was, glowing on the track. He did have that star sparkle, and good for him.
He passed away this year, shortly before I started doing cartoons for Slate. You have to realize, I never even read editorial cartoons until the last year. Not ever.? So I was surprised and pleased that op-ed cartoonists do cartoons about holidays (not just war holidays, like Memorial Day, but Easter, too) and also when interesting or important people pass away. I would surely have done a tribute for Paul, but this is the only cartoon I did on him, a couple of years ago. It's typical New Yorker, although it wasn't IN the New Yorker, of course.
Design note: I picked the colors out in about 10 seconds, and LOVE them!
Here's to you, Mr. Newman.