Even, or especially, if he's a very bad man?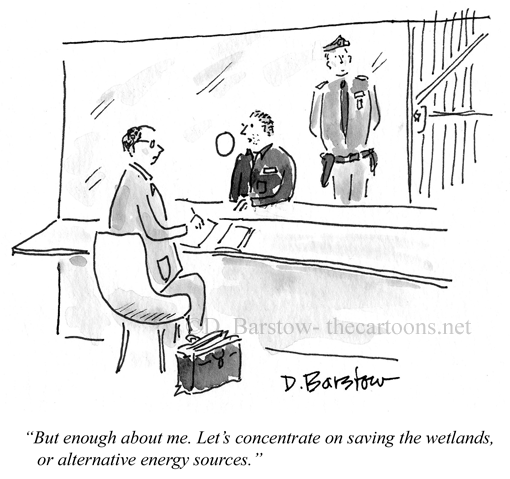 Topic for Illustration Friday: modify. Well, that's not good enough for me, so I've changed it to change, or in this case, rehabilitate.
I'm serious about the title: I really want to know if people change. In the myriad of self-help and relationship books
I've read, the only answer I can recall is, yes, but glacially. As I say in my about me page, I'm an impatient driver.? So glaciers aren't fast enough for me. But maybe that's all there is. In any case, there isn't a man on God's green earth who would ever voluntarily stop talking about himself, so this prisoner is a con man, that I know.
I watched and fell in love with every Prison Break episode, even when it went on life support in the last season. And I think the character Teabag changed, so that gives me hope. I wish the writers had let him go be a damn salesman…
I wrote this cartoon when no one cared about the environment at all – except for me, it seemed. Remember when they called "those people" treehuggers? Over here, that's me.
I think the wash turned out very well in this drawing, with the texture of the paper peeking through; nope, it's not Photoshopped! It's the real thing.