The women are better than the men this year! At least so far. Part of the fun is watching things change.
I didn't like the opening pro dance at all. At first I blamed myself: am I too boy-crazy? Do I need men in each dance? :( But thinking more about it, I think the dance itself lacked a focus. I don't know what it was trying to say, and I can't remember one frame from it.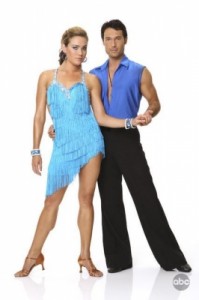 The LA Times this Sunday came wrapped in a full color plastic bag advertising DWTS! (It also had their Fall Season New Shows reviews, FINALLY, but that's another story.) I'll include? their description on the bag before my opinion!
Debi Mazar (the actress with attitude) had a great personality, and set up a nice dynamic with Maks. I do think Maks is a little sexist. But he can laugh at himself. She was good, not the best.
Joanna Krupa (the sexy supermodel) – very pretty, not that super. She and Derek are a great team though. I think they got the highest scores of the night, and I thought their salsa was the only sexy dance so far! The only part I didn't like was at then end of the relay, when she screamed and flopped all over. Gloating is bad manners, Joanna.
Kathy Ireland ( the cover girl) – I liked her a lot. Not a very good dancer, but appealing. She mentioned God when they got their scores, and some of the posters on the boards (TWOP, below) got offended by that. I didn't! God is okay!
Kelly Osbourne (the reality rocker)- boy, Louis is a great teacher. (Too bad he had to point this out to the annoying Samantha – minus 5 points, Louis.) He really did change her. I think she's pretty good, and a crowd favorite. I got tears in my eyes at the whole family thing, but it didn't change my mind about her dancing, like SOME people.
Macy Gray (the singer with soul) Is that description…descriptive? Turns out it is the African American who never smiled in any preview. She appears to have buck teeth, so that's understandable. What's not, is her terrible work ethic and bad attitude. DON'T DO THE SHOW IF YOU WON'T PLAY THE GAME. Horrible woman, bad dancer.
Melissa Joan Hart (the spellbinding star) I thought she was going to be the vampire actress. I get blonds mixed up. I liked her, but Mark Ballas sucks the personality out of all his partners. I can't get over how he can't say one original thing.
Mya (the R&B everything girl) Just one name? I liked her personality a lot, and she's almost too good of a dancer. A ringer? So far, I just like her, and Dmitri gave her some great choreo, even if Len got pissed at it.
Natalie Coughlin (the backstroke beauty) I liked her a lot! Very good dancer, too. Alec seems happy with her, and he should be.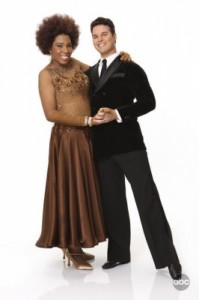 Comments below from Television Without Pity that I thought were right or funny:
I thought the Osbournes were trying to out Osmond the Osmonds in cheezy crying crap..please, she was okay, not outstanding. The fact that she got through the dances were why they cried. I'm over anyone with an O. I can really do without all the blasted drama.
I agree that Macy seemed quite baked tonight. Her wiggling during the interview backstage was annoying! I do wish Jonathan would get a decent partner sometime.
Macy reminds me of a momma elephant. She is about as graceful and elegant as a tractor at the BMW dealership.

As for the pro dances this week, I say keep them coed from now on.
Did Macy just say, infront of Jonathan no less, that she thought she was getting Maks and was pissed when she saw Jonathan and realized she wasn't? I guess it's nice that's she's honest enough to say it to his face but damn, poor Jonathan. What has he done to deserve this?
I also think I'd like the two lowest overall scorers to go home, not one man and one woman.

Alec has a terrific partner in Natalie. Joanna was good but I do not see her winning. Even with a popular partner, I just do not see her lasting long. I will be surprised if she lasts past week 3 because she is not popular nor has that warmth like Brooke. Alec has the real dark horse of this competition with Natalie.
And finally, the worst kind of voter, who will insure that DWTS will never have the best dancers, just? what middle America wants:
I had to give a couple votes to Macy because I like Jonathan and anyone who says "I feel like I finally busted my cherry" on national television can't be all bad.
Photos from Popcrunch.