Today I have to check out the author's section of the cartoons in Gocomics, to see who has written a bio,? displays their book, or blog, or whatever. Uclick has given us (the cartoonists) instructions on what we can and can't put in our author column on the right. Problem is, I don't like their pre-done widgets, so not sure what to put there… Anyway, while I'm finding out what the other cartoonists have done in their column (if anything) I thought you might like my take on the cartoons, as well.
I decided to review the Comics instead of the Editorial Cartoons as I'm a little biased in that category. (My cartoon on Gocomics is Donna Barstow Editorial Cartoons. Snappy, huh?) And since, sadly, we only get paid by hits, I'm helping all the other guys by visiting their pages! Spread the hits!
I'll only review the cartoons that I have some familiarity with or get an instant reaction to. (Sorry for grammar – this is a blog.)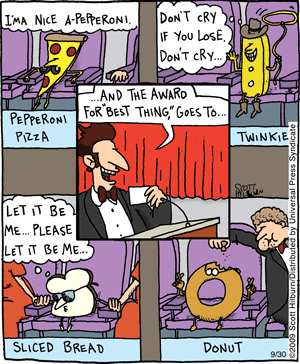 Also, I rarely read cartoons one by one, so it's not really fair to either me or the cartoonist if I can't see a bunch of them. If I like a strip I like to devour it, and I much prefer reading them in book form, if at all possible. The cartoon book, if any, after my comment.
Adam@Home is drawn by a different artist now, no likey. It used to be one of my favorites. Adam looks dumb now and has a weak chin – so do all the other characters. Artist is unnamed – that's the spirit, Universal!? Daily Cartoonist reports on it, with a lot of feedback, but he's closed comments there, due to his silly rule of asking for real names. Lots of cartoonists defend the new artist there, which is not exactly unbiased, so take from it what you will. If you want to change the artist, people, IT'S NOT THE SAME CARTOON. Dumbbells. Book by the original cartoonist: Life Begins At 6:40 (An Adam Collection)
Argyle Sweater. Can't read the lettering, so I don't read it. Marty Murphy used to start screaming every time he talked about the panel. It's very popular though, and Gocomics is always pimping it. Book:? The Argyle Sweater: A Cartoon Collection
Bad Reporter. Does anyone get it?
The Barn. I don't read it, but I like the simplicity. Book: Cartoons by Ralph Hagen – Vol. 1
Basic Instructions. I forgot about this, saw it once before. Funny. I wonder if it's syndicated. It's a good alternative paper strip. Book:? Help Is on the Way: A Collection of Basic Instructions
Big Top gets hundreds of comments, I just noticed! Hate the lettering, & I don't get it at all. Book:? Big Top book
Bliss. I read this in the LA Times, most of the time. I know all the grey wash is a "style" but it looks dreadful in print. New Yorker cartoonists are notorious for being terrified to ever change their style, for fear the editor will drop them. And…? It's true! Mankoff only likes "stylish" styles. Book: Death By Laughter
Bottomliners. I've always liked the father-son team drawing style, but the writing is stale. I would read it if it was in our paper, though. Book: Blackboard cartooning for teachers
Bozo. Some of the gags make it, some don't. I'd read it.
Brainwaves. I read Betsy Streeter in Funny Times. I like her style. Writing is sweet, rather than funny. Book: Brainwaves While U Wait
Brewster Rockit. Traditional comic book style, well done. He's smart and funny, but I rarely read him in the paper. I'd read his book, though! Book: Brewster Rockit: Space Guy!
Geez Louise, I'm only done the B's and it's already been over an hour!Gocomics has hundreds of comics, so this will take a while…
More later.