Remember Monday nights? I wrote this in Season Three. Couldn't get my mind off all the prisoners who died in Prison Break! (Did you know that one of my birds has a name that's mentioned in PB? But I shan't tell you which one!)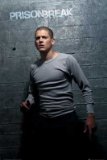 Prison Break was an outstanding show from Fox. But I think they underestimated the Bromance and the relationships and the cool sense of place, whether it was in prison or out, and overestimated the weird Company mystery part. Spoiler ahead: I think this Prison Break is running right now in Europe, so I don't want to give too much away, but in the last season, even more special people die, not listed below. Too many people I loved died:??
Paul Kellerman, Magnificent Bastard (Paul Adelstein). OMG, the scenes between him and Sarah about pie were SO GOOD!!! Their chemistry was the best on the whole show. He is a total wimp on the 10 minutes I watched him on his new show, Private Practice. He gave up PB for that mealy show? That's the tragedy, right there.
Bellick. The show died when he left, the last season. I wrote more about him here. Love that guy, his pig-headedness, humility, vulnerability, and selfishness. All of it.
Abruzzi. Ah, man, please give me more of that Norwegian hotness. I don't understand why they killed him. They brought him back from the dead once, since he was so popular – didn't they learn their lesson then!?
Tweener. I really only liked him his last season, right before the breakout. I thought he'd make it in the cold cruel world. Loved his little affair with the college girl.
Sarah. I didn't love her. She was okay. Apparently she had a tiff with the producers – thought she was a grande dame in Canada, laughable. The sad part was when they brought her back to life – after they cut off her head. Because the fans complained, wah wah wah. Threatened never to watch the show again. "We hate you, Fox!!!" So back she came. Maybe that's when PB lost its mojo.
In any case, there were so many memorable episodes that I do want the Prison Break DVDs. And the characters were very special. One of my top 5 shows ever.