Geez, I really hate Carrie Anne Inaba now. I'm just so fed up with her screeching, like those harridans on So You Think you Can Dance – major reason why I stopped watching that- and her nitpicking. How does saying "you missed a turn", or her tired old "was that a lift?" actually HELP the dancers?? It ruins the experience and sure doesn't make anyone feel better or improve their dancing. Other comments she makes, like watch your arms, ARE helpful. Doesn't she see the difference?
And I can't stand the way she points out the error: " Sorry, I can't help it, I saw it," with this little wince, like please forgive me, and I'm really a great girl. No, you're not, and you're too anal, so shut up. I do believe the judging results are fixed, especially near the end, but unfortunately, the personalities are real.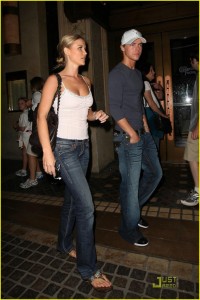 Anyway, I think this is the weakest season of DWTS ever, but I'm still watching, because Derek Hough is still there. I've come to the conclusion that he is probably a once in a lifetime dancer – in the genius category. He should be winning awards in the Arts, because that's how we are supposed to honor the best in the field. Sure, it does help that he is very very goodlooking, but I think Tony is very handsome, and Alec might be the most beautiful, yet Derek glows. (Tony is the sexiest dancer, and Alec is sexy with certain partners – not Edyta! – but Derek has chemistry with more partners, and can also solo like nobody's business.) I hope I get to see him dance in person sometime!
Below are some tasty comments from the fascinating Television Without Pity forums on DWTS.

Derek, for all of his annoying-at-times quirks, is an awesome choreographer. I can't deny that. Anyone else would have screwed that paso up, but it was easily my favorite dance of the night.

Derek, he likes to do the best he can, so, as is happening this season, he will drag his partner to the end even if she becomes like Goldie Hawn and Meryl Streep at the end of Death Becomes Her.
Hee hee!
Wonder if Joanna will write yet another passive-aggressive blog or tweet about Mya being a professional, especially after that first perfect 30. Looking forward to it. :P
And I'm not a Joanna fan anymore, but I think the producers planned the Mya video thing. And Joanna got through it without screaming "Bitch is a ringer" – well, maybe she did and they just didn't show it. She's tweeted it often enough, but at least she's included Donny in her whining.
Ah, yeah, I do follow Joanna's tweets, and she does comment that Mya is a ringer. But since she is, that's okay! :)
So it turns out all Mya & Dmitry needed to connect and spark some chemistry was a hot pink bell bottomed catsuit, a cheesy stache and a Donna Summer groove. Who knew.

This is the first week that I really loved Mya. Her samba was terrific, although Dimtry looked a little too Earl Hickey for my tastes.

Anybody else get a Ron Burgundy vibe from Dimitry during the 70's samba?
Is that the same as Ron something, the porn actor? Met him at, get ready, a book party. Nice, wrote me a note afterwards. Not sure if he was polite, or flirting! Anyway, yeah, this is the first week for me, too, that Mya had any chemistry with Dimitry. Every single time I start to read, I'm not kidding, she is so boring. But she pulled it off this week.
I feel sorry for Aaron. I'm glad Karina's been a rock – she seems to really care about him. He's a mess but I don't really think he's a bad person – just a mixed up kid. He's a better dancer than Kelly and Joanna – and maybe Donny – but yeah, the show's about likeability just as much as dancing. Still, I'll be revolted if Kelly wins.
I like Aaron better each week, too. He's juvenile, but works hard, and is also getting his own chemistry going with Karina. She's been good for him, and to him, this season.
Loved Donny & Kym's waltz. Grownups peforming a lovely dance, graceful and (chastely) passionate.
I'm along with the crowd. Hated Marie with a passion and her stupid jokes, but I really do like Donny, and he's improving and I think he even went a little sexy a couple of times.
Louis needs to push Kelly more. She seems to be almost phoning in some of the Latin dances INCLUDING the Jive. I don't know any other celeb that would have gotten away with those limp Jive kicks. I always remember Tony telling Melissa that Jive kicks should look like you are trying to get tissue off of your shoe. Kelly couldn't have moved air off of her shoe with those kicks.

Ah Kelly…what's shocking to me is that they let Louis of all people slide on the prop and all the messing about (TM Len) before they actually started dancing. I don't recall the judges ever being particularly kind to him before this season, they must really want Kelly to stick around.

Kelly's also in danger of going this week or next. While I enjoyed her foxtrot, I cannot believe how spoiled she is, even if she is charming. Louie had to lock up items that distract her? Is she in preschool? This isn't the only time I've seen her flop down on the floor and say she is too tired to continue. Louie must have his work cut out motivating this girl.
Well, of course I pick comments that support my opinions! Kelly Osborne is the worst now, and I don't find her charming in the least,? just terribly spoiled. And sort of homely. Sorry, but I have to watch her on TV, you know. I do like Louie.
I think Natalie deserves to still be on the show, she could've been doing awesome.
So true! I miss a lot of the early dismissals. :(
Photo of Derek and Joanna hanging out at the Grove from Pure Derek Hough. A fine blog about a fine man!