Time for a new cartoon! Actually, although the color is new, this is quite? old – one of the first cartoons I ever did, and part of a series I did with coffins. I was surprised, death is a fairly common topic with cartoonists – I heard Bob Mankoff, cartoon editor of the New Yorker, say that he gets a fair number of dead cartoons each week.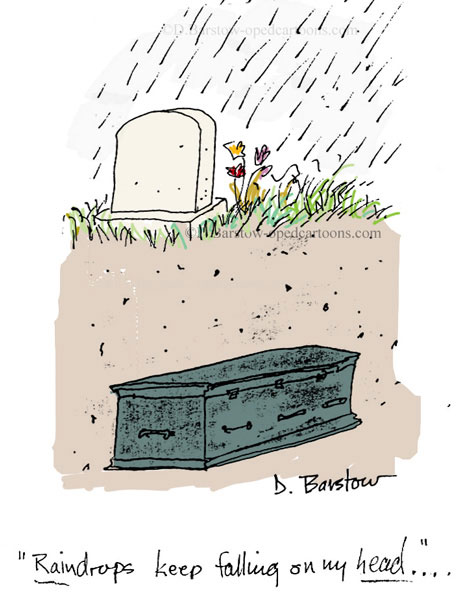 Don't get me wrong – I hate this song. I don't like songs in my head, or humming the same one for days. I can't remember who sang this…Neil Diamond? Someone will know. And it rains a lot where I come from.
This cartoon is for Illustration Friday's topic, unbalanced.? Nothing like a coffin cartoon to prove I'm that! This is from my morbid collection, which I only bring out to show special guests. And you.
Just in case someone didn't get it – and I'm not judging here, but the more I read forums, the more I realize how many people don't understand humor in any form – the head also refers to the headstone.
As my gift to you, now you, too, will have this song stuck in your head.
PS. Here's another cartoon about a song stuck in your head, in my other blog, The Opposite of Wrong. This time it's Obama!