I like all of the stars so far this season! So no grumpies. Yet.
Audrina did very well, I thought, and had a sweet personality. Suspicions of the? judges begins right now, since I think they underscored her terribly. In the rehearsals Tony looked shocked that he had a natural dancer on his hands for once!
Brandy was younger than I thought. She was good, didn't wow me. I liked how happy she was at her scores.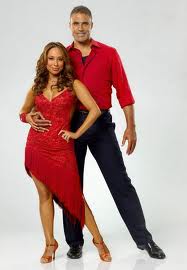 Margaret Cho was fun! Sort of sincere, modest. I thought it was a funny performance, once I knew it was supposed to be. She worked hard. As usual, Louis made an offcolor remark – he was even more vulgar on Bachelor Pad. Not my favorite pro.
Kurt Warner – way to bore me, showing your way too big, over-populated family. Shut up with your wife and too many kids. Dancing was attractive.
Michael Bolton – I felt so sorry for him! Way out of his element – just a bad dancer. And he looked so self-conscious.? Chelsie always has a kind of bored/spoiled look, as usual.
Rick Fox brought the sexy, and Cheryl is the consummate professional, and improved it! Really looking forward to more from them.
Bristol Palin was bad, but sweet. Just a normal girl, and we'd all probably do the same as her. I saw Mark actually act spontaneously for the first time in forever – he? broke down and laughed when she answered Brooke's question with just one sentence.
Florence Henderson – careful. Much better than Chloris. (throw up)
Kyle Massey – almost forgot him. Well, I forgot him while I was watching him and the newly blonde still showing off Lacey. I couldn't believe the judges. Don't believe them. Carrie Anne, you look stupid trying to chair dance and look cool.
Jennifer Grey and Derek – I got tearful when she did over Patrick Swayze (and we all know they didn't get along on the movie, but she is missing that experience), and did I see Derek shed a tear, as well? I thought she was very good, but not necessarily better than everyone. Judges, you lie.
David Hasselhoff – pretty bad, but also funny and candid, which counts for a lot. How old is he? Acts like he's 60. Kym looks the skinniest ever – bad, actually. I think she's at a dangerous weight.
Oops, forgot The Situation and Karina! I liked him. He seemed ready to work hard. Karina was laughing a lot, so she likes him – she flirts really well, doesn't she?
Talking about dangerous, I don't watch Ellen (youtube here which they don't let you share), but I wanted to see the segment today on Riley, a dog found by climber Zak Anderegg while he was 350 feet underground, exploring a canyon cave. (Here's his Facebook page.) Some ahole DUMPED the dog there, left him to die in the dark, underground, on a tiny little ledge.
There's a better video here:
Zak left the dog water, which was all he had. Then he rappelled up to go to town to get help. From MSNBC:
Zak drove into Page and went to the local fire department to ask for help. He was told that neither firemen nor police had the resources or the ability to help: He was on his own.

So he went next to the Page Animal Hospital, where he was given a red, plastic cat carrier big enough to hold the dog, as well as dog food and dishes for food and water.
What a hero. Ellen had the family on today and gave them a $10,000 check and $5000 credit from Shell oil (glad it wasn't ARco, which is owned by the evil BP) and lifetime food. Happy tears.