Subject for Illustration Friday: Swarm.
Naturally, one thinks of insects, bees, in a swarm. But what about reporters, hmmm? They swarm, and not in an attractive way.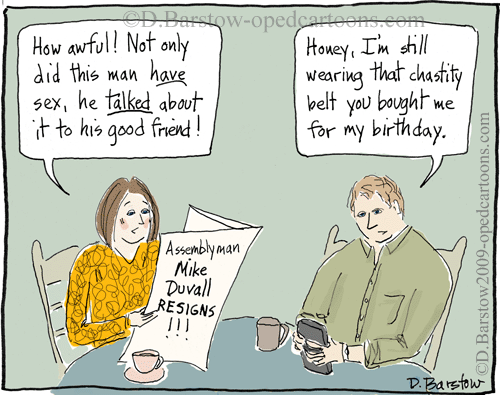 The news media jumped all over Assemblyman Mike Duvall after it was reported that he MAY have had "relations", as Bill Clinton liked to put it, with a couple of women in the legislature, including a lobbyist. Sure, men talk about sex a lot, but so what? It was off the record, Assemblyman Duvall talking with another legislator, next to a mic that no one knew was turned on. (this might be a double entendre)
As far as I know, talk is cheap. No one proved, or attempted to prove, anything. Duvall quit the next day. :(
Originally published in my OpEd blog, with more info there.

This is one of my favorite political cartoons in 2009! More about the news event, and why I did the cartoon, at the link.