It's looking that way.
If you haven't seen Fox's Glee yet, you must, especially if you like musicals. (Think Broadway, not like music in American Idol.) One of the ingredients that makes Glee different is how many minorities there are. I mean, almost everyone! Of course, most of the main characters are straight and white – so far as we know – but this is a very diverse cast. They're all good actors, so it's not a minority ghetto, and? LOST had a politically correct cast, too, and that worked out well.
HOWEVER. I come from a society that hates show-offs, in any color or form.? Kurt and Sandy are so over the top flamboyant, so flaming that smoke comes out of their noses. And yet…they are so charming and spot on, with great dialogue, that I love them (at times)! Kurt in particular is a strong actor (except with weak dialogue, which we'll get to in a minute), and a great singer. Sandy rocks. And Sue sure acts butch, even though she gave the eye to Puck. She's brilliant.
HOWEVER…What is with all the coming out? Kurt came out to his good friend last week, and this week to his father. Bo-ring. Stop with the politically correct lessons.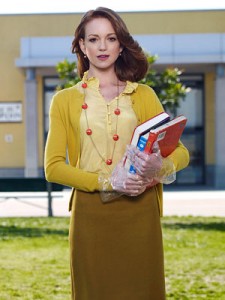 Kurt grudgingly admitting his neuroticism and sexual preference (ie, that he's gay) TWO EPISODES IN A ROW!! So I wondered exactly how many of the writers are gay. Turns out the main producer, Ryan Murphy, is, and also turns out that he admits in articles that this is exactly how he came out to his own father. How very self-indulgent of him to take up 2 episodes with this character doing the EXACT SAME THING!
When writing comedy, one way to do it is to juxtapose disparate qualities in characters (think Frasier and his brother (one of whom is gay in real life, as it happens.)? This would also be gay, weak, feminine Kurt, and his seemingly homophobic,? blue collar all male Dad, and the tension was great (how will Kurt pull this farce off, and how will his father react if he finds out the truth?) Hysterical! For 40 minutes. When Kurt and 2 of the Glee members belted out "Single Ladies" great- and then we see it's in his bedroom and his father walks in. So funny. Later, Kurt decides he has to join the football team – I can't remember why, Finn? – and becomes the star kicker. And his father is so excited about this, and comes to the game. Kurt saves the day, hero. The football team sang, too, and it was sweet how happy his father was.
So far, so good. Then that night his father comes to see him to say how proud he is, and you can feel the emotion on both their sides, and we're on the edge of our seats, wondering if Kurt can putt off the charade, and Kurt says Dad, I'm gay, and his father says, — wait for it —okay.
Pffft. Worst. Writing. Ever. Can you feel the humor and strength go out of the episode? No humor, no tension to keep us coming back next week = bad comedy, and bad writing.
There is also a throwaway line in the dramatic scene where his father says he's always known because at age 4, Kurt asked for sensible heels. Wow, was that not funny! I thought gays are always saying, gay is NOT cross-dressing. Well, I guess in Glee anything goes.
I would have given the show an A-, but because we had to watch Kurt's self-involved coming out twice in a row, it's a B-. I only hope he won't be coming out to a different? person in every episode now, or this could be a very repetitive and short-lived show. Even the EW recap writer is gay…
Twitter was also abuzz for Cougar Town last night, and I'm really sorry I missed it! :( Courtney Cox was on Kimmel last night, and said there was an incident in one scene where she was in a bubble bath and all the bubbles were disappearing in front of her brand new all male crew! She got a little panicky and decided the gay set decorator (Ge-o?) was the right person to ask for more bubble bath ingredients, stat. She said he complained that he didn't want to have to touch her body or get close to her body.
I've worked on many sets, and visited many more, and if you can't help the talent, especially when she's in a vulnerable position like that, get off the set, dude. They should fire his ass. Set decorators' job description absolutely covers any kind of decoration or object like that. No one needs two divas on a set, so you can leave.
* Update: Finally saw Cougar Town, and it is so vulgar, and worse than that, not funny. The car stopped so fast "her uterus shot out of her"? Gross. Love the setup, hate the writing. I do like Courtney Cox, but she needs a better manager or better taste.
Photo from EW.