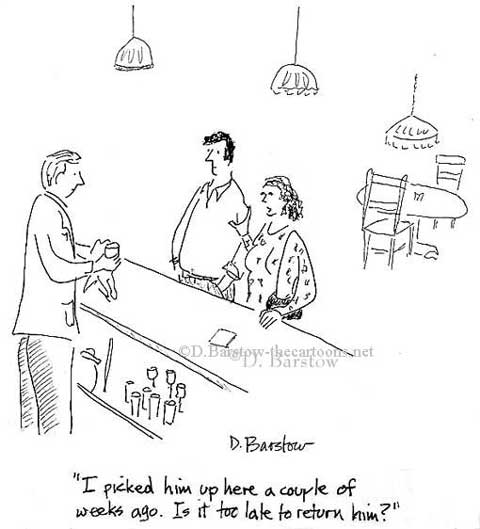 For Illustration Friday, of course! Guess what the topic is. LATE. As I always complain I am. Fortunately, the pleasant people at IF never complain.
I hardly ever do single/dating cartoons anymore, except to please myself. I'm practical; there's nowhere to sell them. Yet isn't it something like some huge % – okay, just looked it up 42% of the US is single! Most cartoonists are not, however- I wonder why. In fact, I don't know any single cartoonists. So anyway, there was that syndicated panel a few years ago, Single Slices. Not in the Times for years now.
Ooh. I just checked my facts, and it turns out the cartoonist is now a dentist. Here is his story. I should just never look at Google when I'm writing, too distracting. I just skimmed it, but it looks like he was going to switch from LAT Syndicate to Creators, and became a dentist, instead? It doesn't say whether he's really single, but I don't think he was – they didn't ring true.
Anyway, nice try at the Tiffany lamp shades, Donna! You goof!