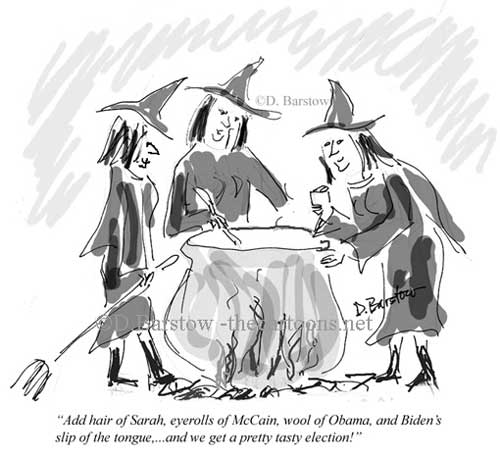 I hope you don't have to know Macbeth to understand this cartoon; just a rudimentary knowledge of witches is helpful, however. They do like to cook, they have unusual spices, and they're passionate.
Plus, they like to stir up trouble for this election! You go, girls.
The Drawing
This is a rough. The lettering for the caption was so bad I had to re-caption it in my Wacom, with a decent font! I also gave it a quick wash. You know, I just love this energy! Sometimes the first time is good enough.
Calling all illustrators and cartoonists, if you know how to keep the freshness and energy of a rough, while doing the finish, please share!
So Happy Halloween, everyone, and don't forget to vote with your mouth this Halloween! Or happy All Saints Day, depending when you read this. Still, have a happy mouth.
*I've collected all my election coverage and political and editorial cartoons over here: The Opposite of Wrong. That's where all the new ones, are too. So come on by.